Core principles: Psychology major helps people achieve physical and emotional well-being through group fitness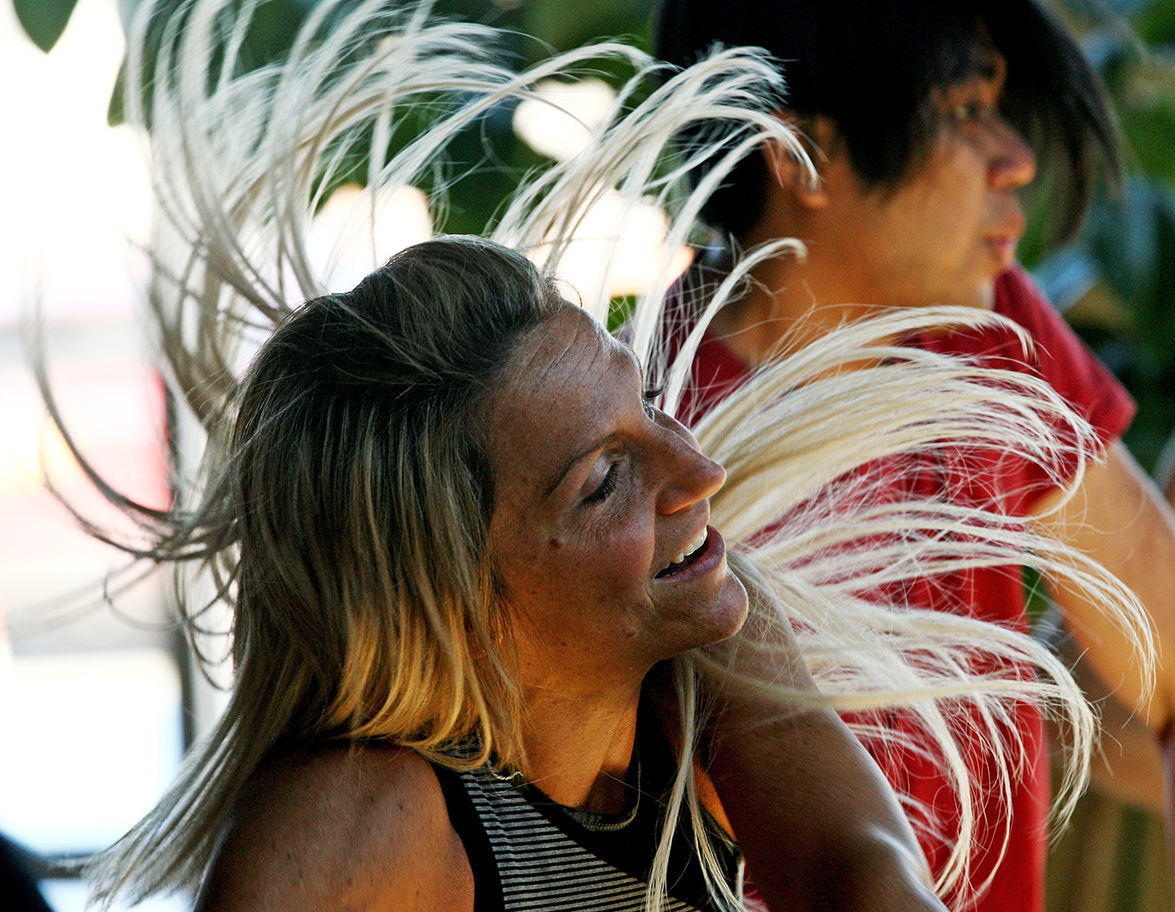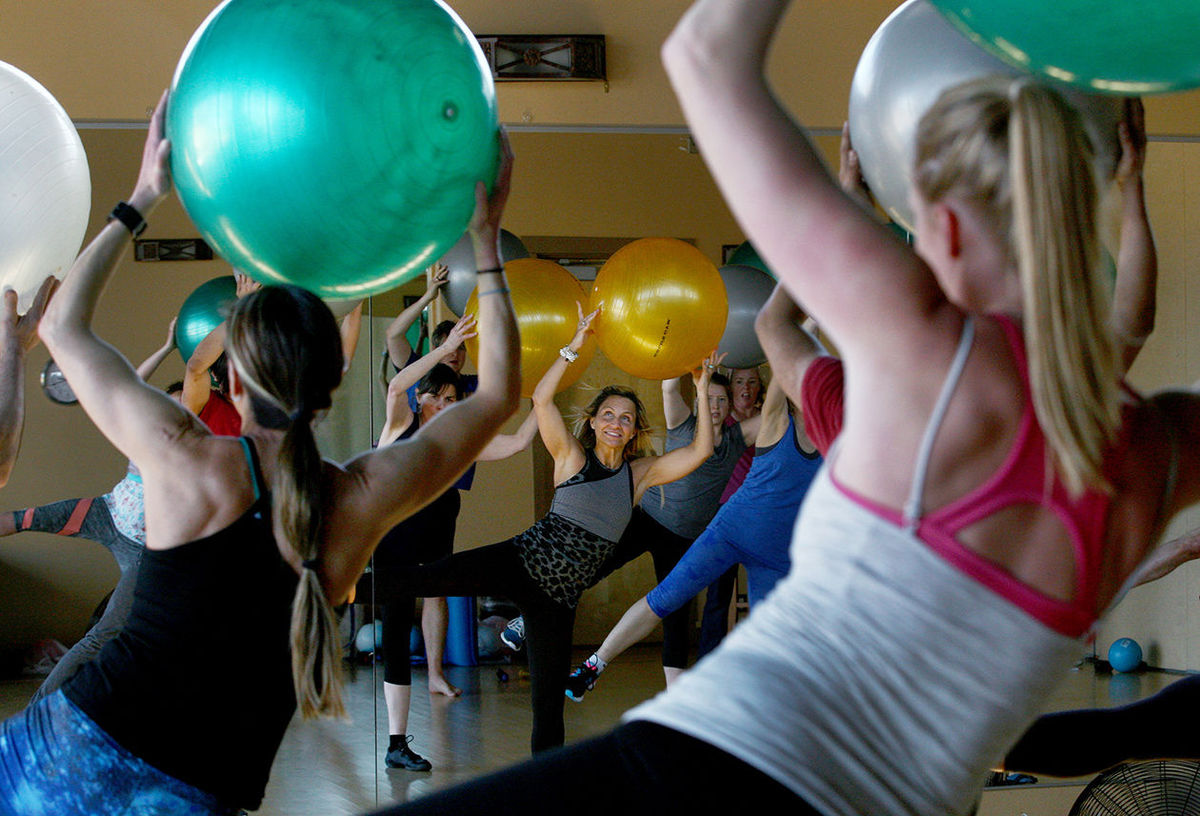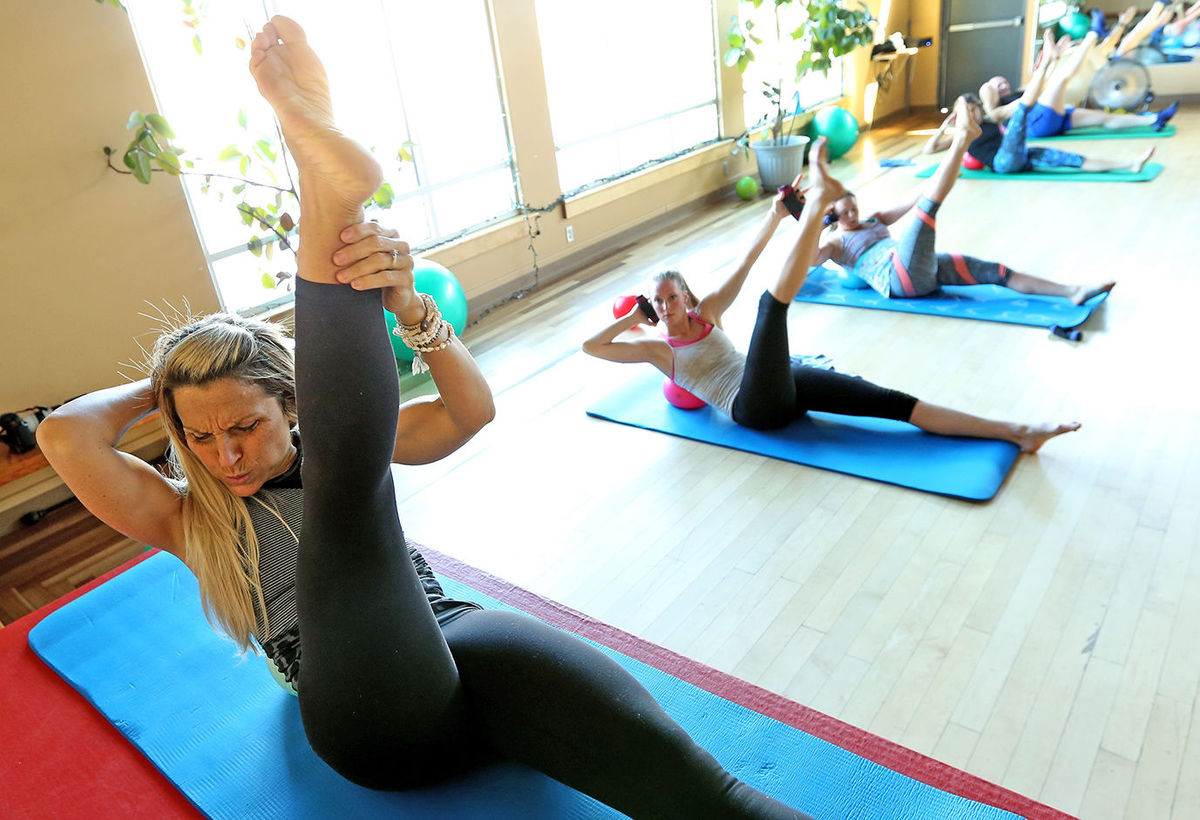 FAIRBANKS — Some businesses are born from an "aha!" moment. Melodee Morris' "aha!" moment probably happened at an Alaska Club company Christmas party 12 years ago.
Morris is owner of Simply Core, which offers group fitness classes Monday through Saturday at the Artisan's Courtyard.
She got her start as a fitness instructor at the Alaska Club. In the beginning, it didn't go well. Morris felt like she wasn't connecting with the people who came to her classes, and she sometimes would butt heads with the woman who was training her.
What happened at the Christmas party was Michael Jackson's "Beat It" started playing. Morris, whose childhood passion was dancing, hit the dance floor. She started doing some choreography and having fun. People got up and joined her. Pretty soon, it seemed like everyone was on the dance floor, following Morris' moves.
When the song was over, Morris said her mentor took her aside and said, "What you just did on the dance floor, that's what needs to happen when you are teaching."
"It clicked," the 46-year-old said. "My classes blew up."
A few years later, Morris branched out on her own and founded Simply Core. It started with one class on Thursday nights as a way for Morris to enjoy more freedom as a fitness instructor and get away from the constraints of working in a corporate environment.
"I honestly thought, 'I am going to try this for a month and then I am going to go back to the Alaska Club,'" she said.
Morris handed out fliers and told friends about the class. Eighteen people showed up to the first class, and afterward, some asked to buy punch cards. Morris quickly added a second class on Tuesdays, and — much to her surprise — that one filled up, too.
At the time, Morris was working part-time at Fairbanks Community Behavioral Health. She was straddling two of her passions — physical fitness and psychology — and she could see a lot of overlap.
Working out makes Morris feel more focused and present in other aspects of her life, she said.
"I know how it helps me through the dark cold winters," the mother of two said. "I know how it helps me be a happier mom."
Morris wrote a thesis on the connection between exercise and mental health and earned a master's degree in community psychology. When the behavioral health center fell on hard times and Morris was laid off, she turned her focus to Simply Core.
The fitness business offers group fitness classes weekdays during lunch hours, after work and on Saturdays. Most classes are an hour long and cost $20. Beginners pay $15, and punch cards are available.
Morris offers several different kinds of classes, including a cardiovascular-
intensive workout, dance, a ballet-fitness hybrid and "total core," a fast-paced high-energy workout to dance music that involves a lot of booty shaking, stomach crunches, some pushups and yoga moves.
Morris draws a variety of clientele: men and women, young and old, professionals and students. Some have been going to Morris' classes for so long they have the routines memorized. Once, when Morris was ill and canceled a class, her students went ahead and held the class without her.
It's not just the fitness benefits that draw people to Simply Core. It's the emotional lift they get from a midday workout, particularly during the dark, cold months of winter.
"If I can, I will come to this class every day. It's just such a mood booster for me," said Becca Harley, a barista who has been attending classes at Simply Core since 2014. "Nothing has ever really stuck like this. I think it's because I have so much fun here and everybody is so sweet."
Mike Taras agreed.
"It is hard to come in here in a bad mood and leave in a bad mood," he said. "There is some contagious enthusiasm."
The biologist started going to fitness classes at Simply Core four years ago after a woman he was interested in suggested it.
"I had never been in a group fitness class before," he said.
Taras is muscular and not very flexible. He doesn't look like someone you would see in an aerobics class. He plays hockey and goes to the gym. He really enjoys the core classes, he said.
"It's really hard to just go to the gym and work on your core. It's kind of boring," he said. "When I started coming here, it was just so much fun and it was an incredible workout. I just started coming back."
Morris has multiple certifications for teaching group fitness, including from the Athletics and Fitness Association of America. She said she believed that by developing core strength, people can improve on their daily lives, emotionally and physically.
Core strength is needed for many tasks, such as hitting a baseball, picking up a laundry basket and shoveling snow.
"Everything we do, that is where your strength comes from," Morris said. "If you can build core strength, I really feel like it's anti-aging."
Contact staff writer Amanda Bohman at 459-7587. Follow her on Twitter: @FDNMborough.